Journal list menu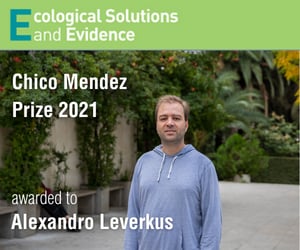 The Ecological Solutions and Evidence Editors are please to award the 2021 Chico Mendes Prize for the best Practice Insights article by an early career practitioner to Alexandro Leverkus for the article, Enabling conditions for the implementation and conservation outcomes of a private nature reserve.
Alex and colleagues examine the combination of economic, ethical, biophysical, socio-cultural and governance factors that led to the successful establishment and management of a private nature reserve in central Spain. This enlightening article not only highlights how conservation-orientated management of private lands can be incentivized, but also how hurdles can disincentivize such actions. The authors conclude with recommendations for government agencies to supporting and encouraging such forms of conservation by reducing bureaucratic barriers and providing technical and financial incentives.
Find out more about Alex's award-winning study here and discover all the shortlisted articles for this year's prize below.
Winner
Enabling conditions for the implementation and conservation outcomes of a private nature reserve
First Published:

28 July 2020
We provide insights into the motivations of one landowner to acquire land and devote it to biodiversity conservation, and on the conditions that contributed to the success of this privately-funded project. After two decades, the Los Barranquillos Wildlife Refuge has restored habitat, enhanced animal populations, fostered education, contributed to large conservation projects, and inspired naturalists, school children, university students, and administration officers. Photo: inspection of artificial refuges for rabbits – a keystone species.
Shortlisted
Using phenology data to improve control of invasive plant species: A case study on Midway Atoll NWR
First Published:

14 May 2020
Verbesina encelioides (Golden crownbeard) is a highly invasive annual forb species at Midway Atoll National Wildlife Refuge (NWR), which is the world's largest albatross colony. Past control efforts have been impeded by a lack of biological information about this invasive plant species. Here, we document the success of incorporating phenology information into invasive plant control operations at Midway Atoll NWR, ensuring that efforts to eradicate V. encelioides will have a higher chance of succeeding.
Stakeholders engagement as an important step for the long-term monitoring of wild ungulate populations
First Published:

15 July 2021
Ongoing monitoring is essential for the management of wildlife populations. The collaboration between local stakeholders and researchers is envisaged as an important partnership to monitor game species for long periods and vast territories. Here, we implemented a framework aimed at broadening the field applicability of Distance sampling techniques to areas where ongoing technical assistance is limited.